With CMS in administration it is extremely difficult to find the latest firmware for CMS2000, I managed to find a copy from a Whirlpool forum member.
You can download it below;
Below is an excerpt from the included procedure;
CMS 2000 Parameter Change.
Apply DC supply only to the inverter. The unit will sit in 'Grid Fault' mode.

Open Sunville Flash Tool ( or similar)

Click Setting & select your com port

(if you do not know your com port settings. Contact your IT provider)

Click OK

Click 'load -> Open' or click the folder icon to select the varied firmware version.

Select the file SV4KA.mot file

Click OK

Click 'flash'. If the correct coms port is selected the CMS 2000 will display FLASH. This process will take approx 2mins.

Once the firmware is updated, you will get the following message, Click 'OK'

Close the Flash Tool and open CMS ProControl. Select and enable the corresponding com port. (if you do not know your com port settings. Contact your IT provider)

The serial number on the inverter will display.

Left click once to select the inverter. The bar at the top will go black.

Right click once and select parameter.

Password is: administrator

The parameters will then be displayed.

Change the Vac-Max (V) to 270 volts, the highest permissible as per AS4777. Click Setting.

Once your settings have changed. You will see the below message. Click OK

Disconnect the DC supply and allow the inverter to power down. Once discharged, turn on the DC and AC supply and connect to the grid. The current settings can be seen by double-clicking on the serial number in CMS ProControl.

Process Complete.
Model Parameters Error
Occasionally we have had the following error. If this occurs, you will not be able to change the parameter settings.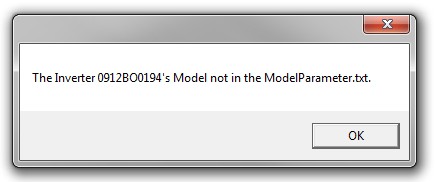 If this occurs, you can download the updated file from. http://carbonmanagement.com.au/support/ModelParameter.zip
Once this has been downloaded, you will need to extract the downloaded ModelParameter.txt file
& place it in c:\programfiles(x86)\CMS Pro Control & replace the existing file. Reopen CMS Pro Control & you should not see the error message.