The First Movement: The Beginning
The first movement covers the first phase of the story of Qatar, the history, traditions and challenges of a nation. It includes the hardships faced by early generations and their struggle to survive and communicate.
The ambience of this movement describes the difficulties, hopes and ambitions of life in the desert. The orchestra escalates in a group dialog and interaction that calms only to prepare for the entrance of the folkloric melody "Bacher El Eid". The melody fades in and implies the relationship between childhood as a symbol of the beginning and the founding of a nation and its people. The folkloric melody begins to experience different rhythmic, melodic and harmonic variations, expressing the difficulty and suffering, hence "the beginning" being built on.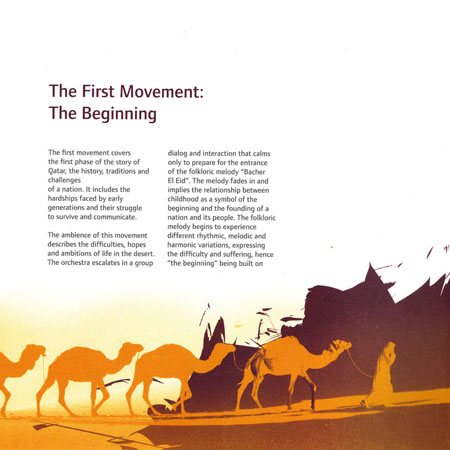 The Second Movement: The Dream
The second movement reflects the marine environment, starting with a poetic melody to describe the preparations for the journey of "Um Al Hanaya", the traditional pearl diving boat. The beginning of the movement portrays the people's feelings as they stand on the shore, waiting to bid farewell to their loved ones before embarking on a journey into the unknown filled with dangers and hardship. The movement is inspired by the folkloric song also called "Um Al Hanaya" that reflects the spirit of excitement and hope as the boats leaves shore, as well as the joy and happiness when it returns home safely. In between these periods, the music expresses the dreams and ambitions of the people and their endurance and commitment to achieve the life they aspire to.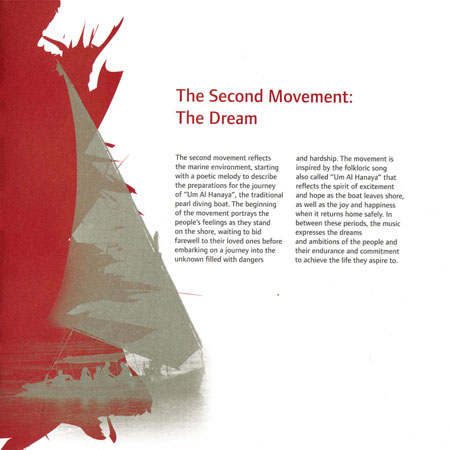 The Third Movement: The Challenge and Achievement
The third movement expresses the overall development that Qatar is currently witnessing in the domains of construction, engineering, technology, sports, culture and education. This movement is vivid, quick and modern. Traditional local rhythms are embedded in this movement, which creates a feeling of celebration and joy in a nation that is proudly building and working towards their ultimate goal. This reflects the work and effort put in as a response to the challenge of building.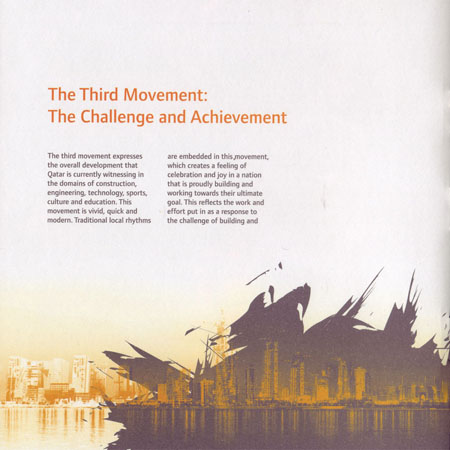 The Fourth Movement: The Future
The final movement reflects the importance of heritage as a primary pillar in the successful development of a nation. A beautiful romantic representation, this movement carefully portrays selected melodies and compositions inspired by a traditional, folkloric art called "Al Tarramul". The orchestra simulates the narrator or the poet as he sings with pride of his nation's heritage and tradition. The movement represents how Qatar embraced its authenticity and heritage and cherishes these elements in its journey to the future.
Download here;
The First Movement: The Beginning (103mb)
The Second Movement: The Dream (44mb)
The Third Movement: The Challenge and Achievement (39mb)
The Fourth Movement: The Future (69mb)