Another little project of mine, I needed a wall mounted remote for my Nice brand automatic gate, I couldn't find anything suitable, so I decided to make my own.
Converting the Clipsal 30PBL from latching to momentary
I was looking for wall push buttons, and came across the Clipsal Impress range with a push button version. The advantage of the Clipsal range is it blends with existing wall lighting switches.
I purchased the simple single gang push button with no LED (model 30PBL) from eBay for $18 including postage.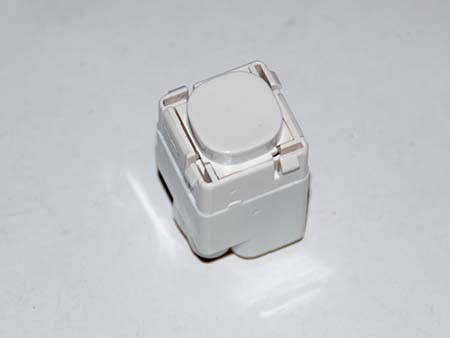 On receipt, I opened up the push button mechanism, thinking there would be an easy way to convert from latching to momentary. Unfortunately, Clipsal had a very simple design that toggled from one contact to the other on each press, so it wasn't straight forward.
I decided to take a different approach and embed a push button into the Clipsal push button. I found a compatible push button for $5, and removed as much of the unneeded plastic in the Clipsal mechanism. The button was mounted with its standard supplied nuts.
Creating the Nice Flor wall remote
Now with the wall mounted push button sorted, I simply used an old Nice Flor-s remote, soldered some wires to the PCB and connect this to the Clipsal switch. Once installed, the remote was hidden in the wall mounted electrical box.