Having purchased a number of generic USB to serial adaptors from eBay, I thought I would go over the pros and cons of the types available.
Prolific USB-to-Serial Comm Port (counterfeit)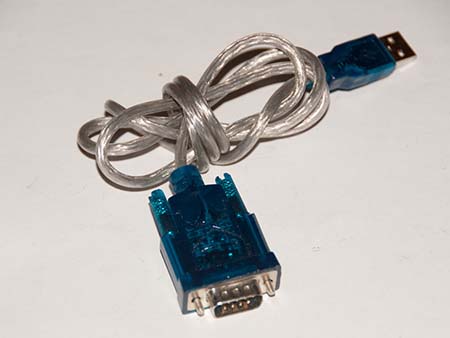 The least expensive of those found on eBay, apparently these have a counterfeit Prolific chip, which limits them to working only on Windows XP.
Please be warned that counterfeit (fake) PL-2303HX (Chip Rev A) USB to Serial Controller ICs using Prolific's trademark logo, brandname, and device drivers, were being sold in the China market. Counterfeit IC products show exactly the same outside chip markings but generally are of poor quality and causes Windows driver compatibility issues (Yellow Mark Error Code 10 in Device Manager). We issue this warning to all our customers and consumers to avoid confusion and false purchase.
As you can see on my Windows 7 machine I have the Code 10. I have had this cable working fine on a Windows XP machine though.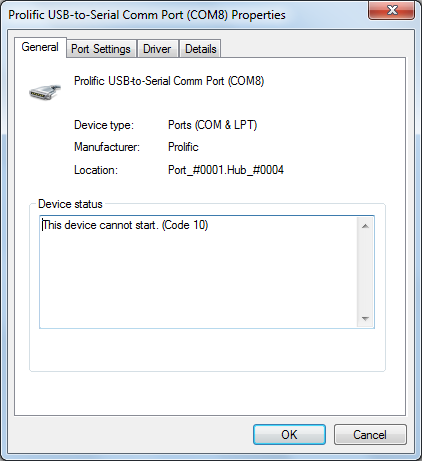 USB-SERIAL CH340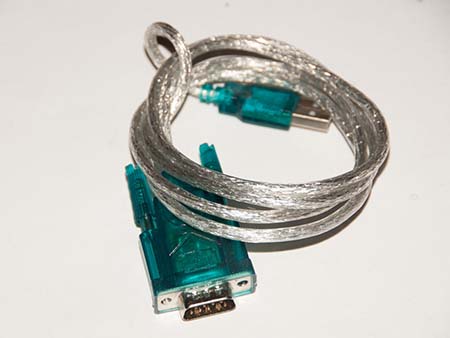 With very similar packaging to the counterfeit Prolific above, and slightly more expensive, you can find these on eBay by search for Windows 7 compatible. These use the CH340 USB to serial IC and don't have any problems installing on a Windows 7 machine. I have found that some serial devices do not like this adaptor, which made resulted in the purchase below.

Prolific USB-to-Serial Comm Port
Possibly the real deal, and slightly more expensive then above. This Prolific PL2303 USB to serial adaptor has no problems installing on Windows 7, and my Solar Inverter which I was using to test, had no problems communicating unlike the above.  If you don't want to waste time, get this adaptor, easily spotting with the black housing.