Caution: this guide is a demonstration of how to use the product, it should not be applied to the tyre sidewall.
Here is a quick post on how to repair a minor puncture on a car's tyre. I purchased a car tyre repair kit from eBay
for $5.50 including postage. Here's what I received;
A raspier tool for enlarging the hole,
A needle insertion tool for inserting the repair strips,
A small tube of rubber adhesive, and
Five tyre repair strips.
How to repair a puncture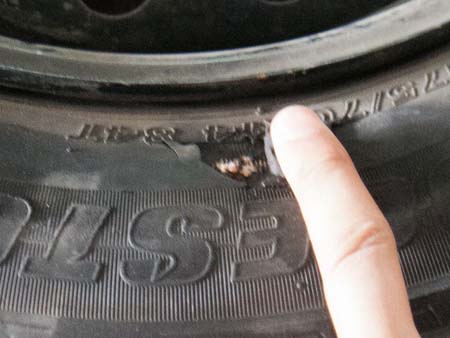 First remove a repair strip and insert it into the need hole of the insertion tool, this was the most difficult and used some pliers to help me pull it though, I was surprised and happy that the repair strips were not sticky at all. Pull the strip so it is centred in the insertion tool.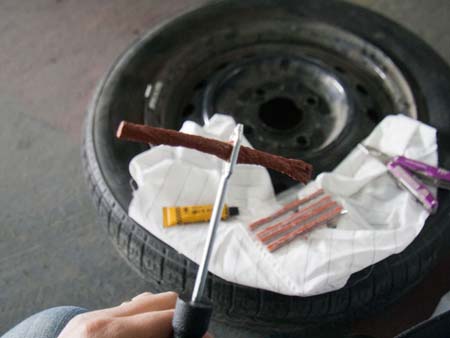 Cover the strip with copious amounts of rubber adhesive, this will assist with the strip sticking to the inside of the tyre. Insert the needle insertion tool (with the strip) into the tyre hole, don't insert it all the way down, but ensure both ends are still protruding.
Now twist the insertion tool slighty (this will get it all knotted inside) before pulling it out of the hole, you may need to use some pliers to ensure the strip remains inside.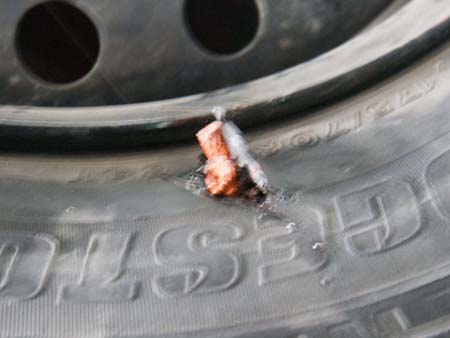 Inflate the tyre and ensure no leaks