matchboxPC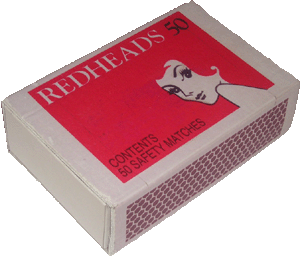 "a PC in a matchbox"
Hopefully this is an original idea. I got the idea of "matchboxPC" when I saw a PC in overclockers.com PCDB. The PC was called "matchbox" and used the same components as this project.
A scan from atomicmpc magazine.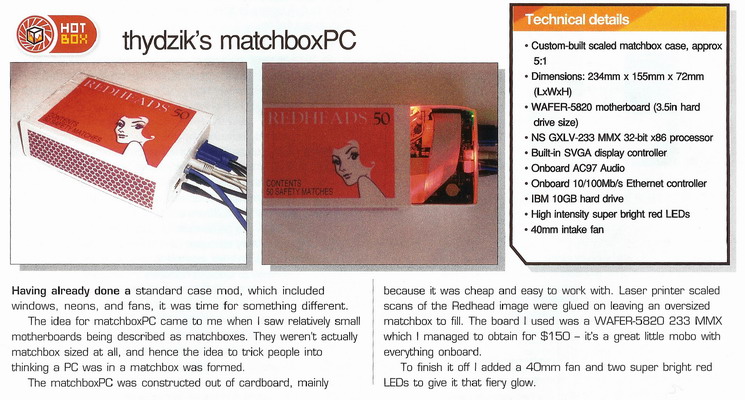 Larger image
If anyone is interested, the high res scan I used for the box (2.35 MB).
A few comments i've recieved (taken from atomicmpc forums):
"oh very nice.... pure originality here, overall nice construction even though it is cardboard, meh"
"Very Andy Warhol, which may be your thing or not, for me it's not. It's a cardboard box with pictures, so points for originality but none for implementation"
"Very nice idea, but I would worry about static discharge from the cardboard."
"very nice idea and well done, but too simple for my taste ..."
From Overclockers Australia Forums:
"Very well done. Looks like a normal sized matchbox."
"What an amazing PC! That has to be one of the best PC's in the PCDB in my opinion. Such an original idea."
From emails:
"I saw your matchboxPC linked from Make. Very nice job. It reminded me that the old Sun Microsystems workstations were referred to as "pizza boxes" because they were flat - about 12" square and 3" high. That could be another theme for a custom PC."
"I read about and *saw* your matchbox PC mod. That is, hands down, one of the BEST mods I have ever seen. Absolutely what modding is about! Nice work."
UPDATE September 23, 2006:
Since submitting this page to neatorama's Ultimate Case Mod List this page I have received a lot more views and linking.
+digg: Travis Hydzik's Matchbox PC Case Mod
+digg: Matchbox Case Mod
Questions? Contact me.
Originally updated May 10, 2004