I must admit that the whole idea of my digiframe developed from an idea I stumbled across on the web, the Duo Digital Frame which was built from a PowerBook Duo 270c. Having no idea about Macs, I chose to build my digiframe using an IBM compatible laptop.
Not wanting to spend much on this project, I spent quite awhile looking for a bargain second hand laptop. I was lucky to find an IBM ThinkPad 760E for sale on the overclockers.com.au forums for only $200 (this was in 2002).
The laptop is capable of doing 1024 by 768, but it was decided it would look nicer at 640 by 480. The 12" LCD screen happened to be slightly smaller than A4. There wasn't much choice for photo frames since A4 is not a standard photo size. However, I did manage to find a nice looking wood certificate frame for only $20.
A larger photo frame backing made from thin wood was used to hold the LCD. Card was used to make the matte frame that masked the LCD and gold tape made a nice looking thin gold border. The software that was used was ACDSee classic as this was a light version that didn't slow down with many pictures. The program was set to automatically load with Windows and go straight into a full screen slideshow, that randomized the images. Next was a matter of obtaining some nice looking pictures.
A good thing about Kazaa (at the time) was that you could download images at a desired resolution. Therefore, all the 640 by 480 pictures were leached giving a nice assortment.
Originally I had the laptop sitting behind the digiframe, but it was decided to move the laptop out of sight. The 20-pin signal cable going to the LCD was spliced with 2m of shielded cable. This was an extremely hard job due to the wires being extremely fine.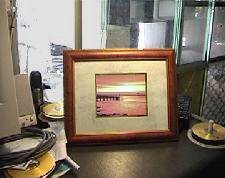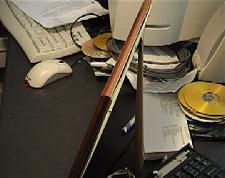 Above is the digiframe sitting on my desk, the second photo shows just how thin it is.
Above is the card mattes, the second photo is the LCD screwed to the new backing.
UPDATE: I've had a number of people email me asking if they can purchase a digiframe from me, the whole point of this project was to make an expensive, nicer looking than what is currently available. However, link to a digiframe manufacturer digi-Frame.
Also conduct a search for 'Sony CyberFrame' or 'Kodak Smart Picture Frame' or 'Digital Photo Frame'

for any comments/questions/anything at all, contact me.