Sometimes a man just wants to show of; this is one of those times.
My latest project was upgrading my full 2TB server (Adaptec 2410SA with 4x Seagate 750gb drives in RAID-5) to a 6TB server (Adaptec 3805 with 8x Western Digital 1TB drives in RAID-6).
Obviously, the Dell PowerEdge SC430 wasn't designed for 9 drives (an extra for the OS) so it was quite challenging fitting it all on. It was made significantly easier by purchasing an iStar BPN-350SAS which allows for five 3.5″ drives to be squeezed into three 5.25″ bays. Plus it is tray-less, and looks very sleek. There was a significant problem in that the SC430 only supported two 5.12″ bays, after quite a bit of hacking the case up, I then realised that the motherboard was preventing the BPN-350SAS to fit in horizontally, with extreme luck and millimetre clearance, it did manage to fit in vertically, but with the extension of the P4 connector and two capacitors that were in the way. Refer to the following pictures.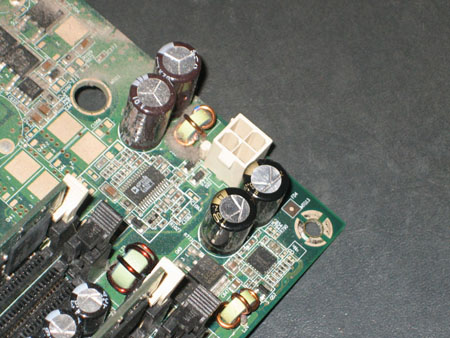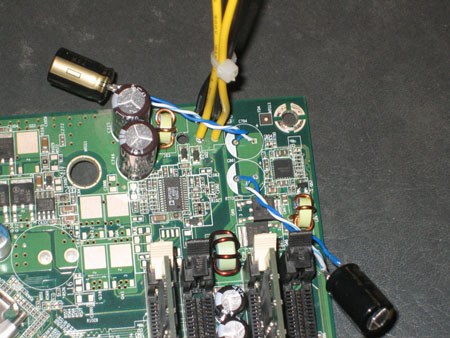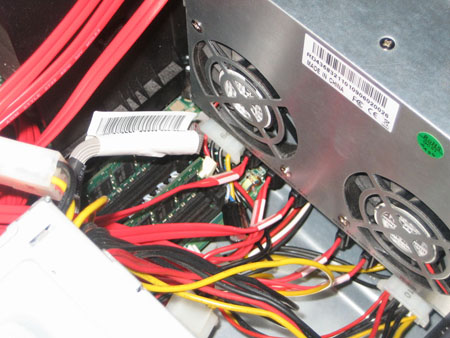 The SC430 now had the two standard bottom hard disk drive cages and the five from the BPN-350SAS which meant I was still two drive spaces short. I removed the drive cage from a Dell Optiplex GX270, which I managed to luckily remove easily with a long stemmed drill to remove the rivets. I removed the SC430's card fan, and riveted the GX270's cage in place. This allowed me to still use rails for easy removal of drives. The SC430's card fan was relocated as an exhaust fan to the back, mainly to stop BIOS from pausing on fan fault during boot-up.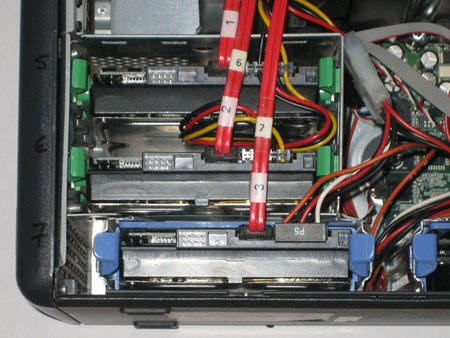 Minor problems were; cable protrusion and the side panel not closing. This was fixed by using SATA power cables which had clip on connectors forming a natural right-angled connection, and also by carefully whittling the SATA cable connections so a tighter angle could be formed.