I would like to share my experience with Altrex Light Skinz, a product when applied will allegedly protect a car's headlights from rocks and stones.
As I planned to drive from Perth to Melbourne, I was after some headlight protection for the Hyundai Tucson. I purchased Altrex Light Skinz due to their claim of providing better protection than the common plastic clip-on equivalent, claiming 'simple and easy to fit', claiming 'completely invisible once fitted' and being about half the price ($40 AUS) of the common plastic clip-on equivalent.
I cleaned the headlight glass before applying to make sure it was free of any dirt, as per instructions. Given that the Hyundai Tucson has curved headlights I let the glass heat up with the headlights for a little while, also as per instructions.
Here are some before shots of the Hyundai Tucson's right and left headlights.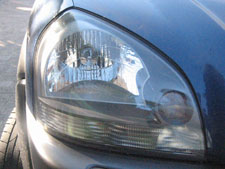 And now some after shots after applying Altrex Light Skinz on the right and left headlights.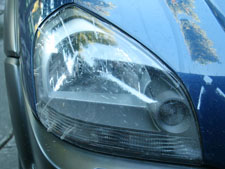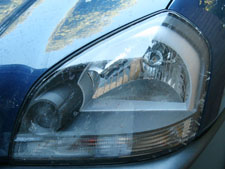 Even after following these instructions, Altrex Light Skinz are not 'simple and easy to fit' and are definitely not 'completely invisible once fitted'. I am going to quote their FAQ with actual information based on my experience. Hopefully, this port will prevent people unsure of Altrex Light Skinz from wasting their money.
How easy are they to fit? Will I be able to fit them myself?
They are not easy to fit; you will be able to fit them yourself but will not be happy with the results.
How can I fit Altrex Light Skinz to a curved headlight? Are Altrex Light Skinz and Body Skinz easy to fit?
No and No. It just doesn't make sense that a flat skin will fit over a curved headlight. Try getting a piece of paper and fitting it around a ball, how many crinkles do you get?
You can cut a "V-shape" but then you have a slit down one side.
You can cut the template into 2 pieces but then you have 2 slits down the side.
Can I remove Altrex Light Skinz and Body Skinz later if I decide to?
No. on removal of Altrex Light Skinz you will be left with a sticky glue to remove which is insoluble in soapy/hot water.
You will be able to remove all the glue by slowly peeling it from the edges working towards the centre with using your thumb.
Why are Altrex Light Skinz better than the old acrylic-style headlight protectors?
Light Skinz are not completely invisible once fitted. If you think you will be able to apply Light Skinz without leaving a crease, bubble, or smudges, then think again.
How can I ensure a perfect fit for my Altrex Skinz Protection?
You won't be able to.
If I don't put them on straight, can I take them off to adjust?
No, If you remove the Light Skinz to adjust the glue will be smudged and on reapplying your smudge will be permanent.
If they are not correctly fitted the first time, too bad.
What can I do about air bubbles?
And yes there will be air bubbles, and given it is also under Frequently Asked Questions must be a frequent problem.
The instructions suggest pricking the air bubble with a needle. Using this technique will only remove the air in the air bubble not the bubble itself.